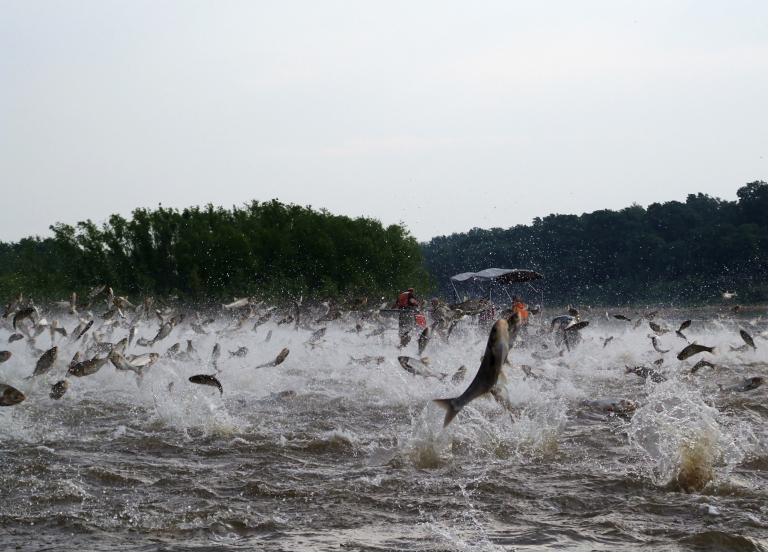 UMRBA provides support for the Great Lakes states' request that the U.S. Congress authorize the Great Lakes and Mississippi River Interbasin Project, Brandon Road, including both structural and non-structural components, at full federal expense for construction, remaining design, and perpetual operations, maintenance, repair, rehabilitation, and replacement in the Water Resources Development Act (WRDA) 2022.  
Find the letter on UMRBA's website by clicking here.
The existing and potential impacts of aquatic nuisance species on the Upper Mississippi River System are substantial, affecting a broad range of river resources and uses, including native biota, water quality, commercial navigation, and recreational boating. The Upper Mississippi River Restoration program's long term resource monitoring has shown that the establishment of invasive carp has resulted in substantial declines of native fish species and altered the riverine ecosystem. The introduction and establishment of invasive carp to the Great Lakes system could have similar disrupting effects on its natural ecosystem.
UMRBA asserts that the most effective means of controlling the impacts of aquatic nuisance species is by prevention. The potential for movement of aquatic nuisance species from the Great Lakes to the Mississippi River Basin also needs to be prevented. UMRBA views the proposed Brandon Road project to be a significant step towards developing a holistic two-way system.
Importantly, UMRBA believes that the Brandon Road project will inform invasive fish movement deterrents, benefiting other states and regions. Research and control actions implemented and tested at the Brandon Road site will be relevant for efforts in other parts of the country, including the Mississippi River basin.